Hot Lunch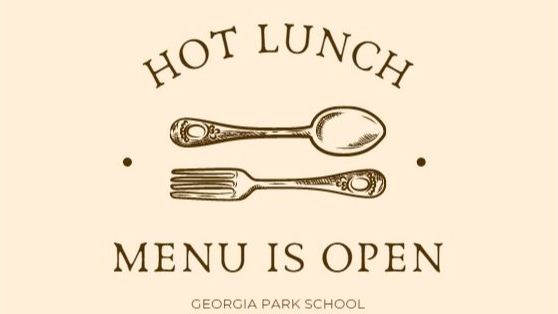 Georgia Park Elementary Hot Lunch & Pizza Day Program 2022-2023
Hot lunches will be delivered on Wednesdays and pizza days are Fridays. For our hot lunch
program to run smoothly, we need a few awesome volunteers to help us make it happen on
Wednesdays. If you're interested in becoming a part of our hot lunch committee, or are available to
help out for an hour or two on a few Wednesdays this year, please send an email to
georgiaparkhotlunch@gmail.com . The more volunteers we have, the fewer hours we'll each need
to put in.
IMPORTANT DATES:
Menus for January – February are now up and open. They will close on December 12th. All
payments must be made by December 12th, or your order will be cancelled.
If you have NOT already registered, please follow these simple steps:
1. Go to https://georgiapark.parentcouncil.net
2. Click on "click here to register"
3. Enter the access code GPHL, fill in the rest of your information and click "register now"
4. Click "student" and fill in the information including which class/division your child is in
5. Click "order" next to the jan/feb hot lunch
6. Complete your order and click on "update and proceed"
7. Pay for your order. Please note that there is an option to pay with a credit card or visa debit
after you click Paypal. If paying by cash or cheque, please include your child's name, their
teacher's name, and "hot lunch" on the envelope, then drop it into the RED PAC box just
outside the office.
HELPFUL TIPS:
~please write down your username and password somewhere in case you forget them
~if you have forgotten what you ordered and when, please login to the website and check
your account.
~please read all the instructions above... in case you missed it, the access code is GPHL
PLEASE REMEMBER this program is run on volunteer hours. If you can spare a few hours this
school year, please email us at georgiaparkhotlunch@gmail.com We'll have a volunteer sign up sheet
posted on the Georgia park PAC facebook page as well so you can sign up with a buddy! It's a great
opportunity to get inside the school and pop in to say hi to your child!
PLEASE NOTE: ALL VOLUNTEERS MUST COMPLETE A CRIMINAL RECORD CHECK which
can be picked up at the school office.
THANK YOU ALL FOR YOUR CONTINUED SUPPORT