Athleticism and Sportsmanship Abound at District Track Meet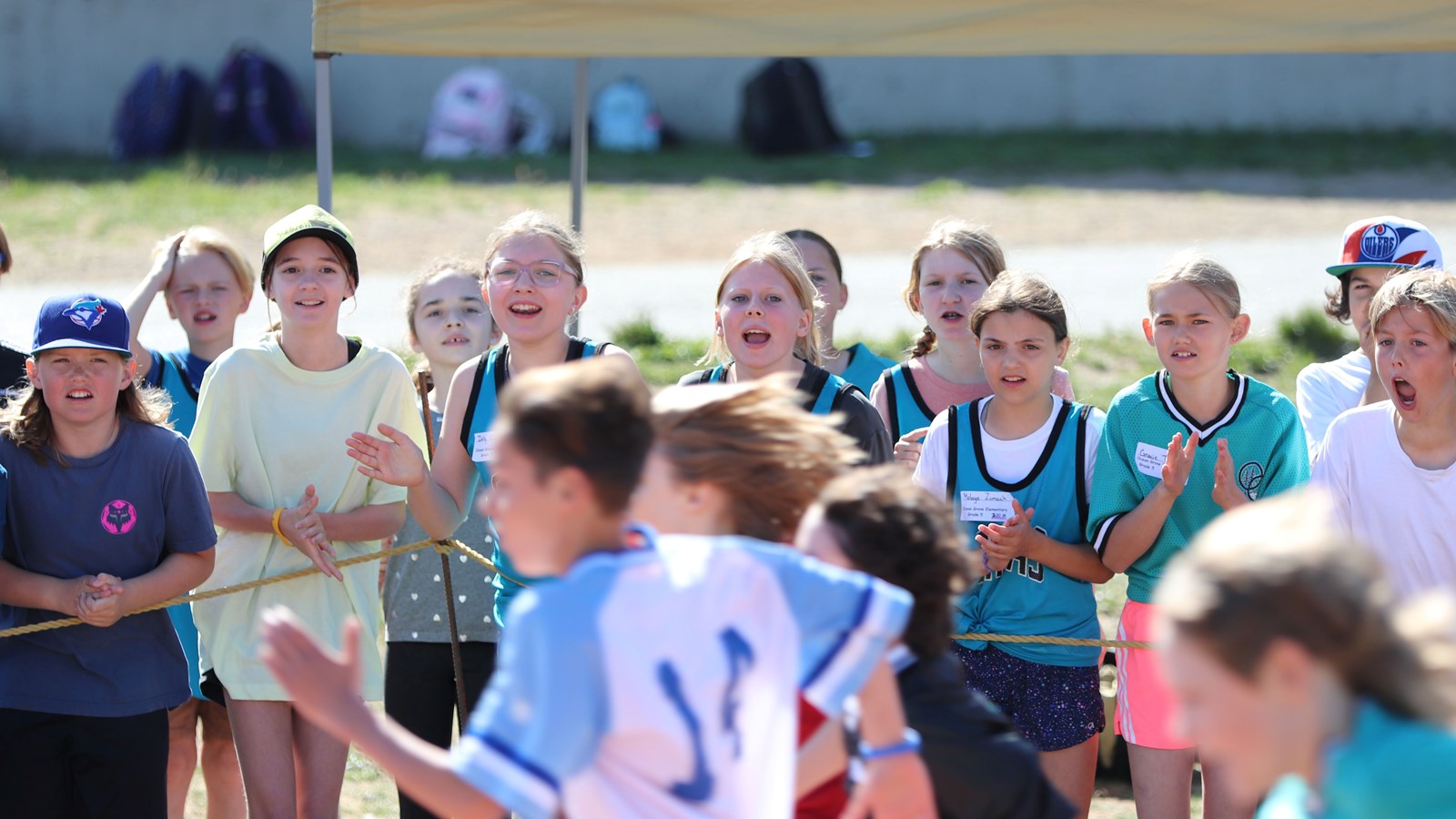 A beloved and longstanding tradition, the district track meet, returned to École Phoenix Middle School on May 25. Students in grades 5 to 7 from schools across the district gathered at the Phoenix field for a full day of track and field favourites - shot put, long jump, high jump, discus, relays, 100m, 200m, 400m and 1200m events.
Congratulations to all the student athletes that participated, gave their all in their respective events and then cheered on their friends and classmates. And thank you to our dedicated staff and volunteers who worked tirelessly organizing, setting up equipment, ensuring everyone's safety, and being cheerleaders for our student athletes.
Event Results


Shot Put
| | | | |
| --- | --- | --- | --- |
| Grade 5 Boys | Nathan Hutter | Ocean Grove | 1st |
| | Michael Touzin | École Willow Point | 2nd |
| | Ben Ellemo | Sandowne | 3rd |
| Grade 5 Girls | Karli Knutson | Georgia Park | 1st |
| | Izabella White-Decaire | Ripple Rock | 2nd |
| | Kallie Cronin | Georgia Park | 3rd |
| Grade 6 Boys | Milo McConkie | Southgate | 1st |
| | Seymour Luoma | École Phoenix | 2nd |
| Grade 6 Girls | Alexis McAughren | Southgate | 1st |
| | Leah Reynolds | École Phoenix | 2nd |
| | Kinley Granson | École Phoenix | 3rd |
| Grade 7 Boys | Casey Bukta | École Phoenix | 1st |
| | Dreyton Jackson | Southgate | 2nd |
| Grade 7 Girls | Kayley Arkell | Southgate | 1st |


Long Jump
| | | | |
| --- | --- | --- | --- |
| Grade 5 Boys | Ben Ellemo | Sandowne | 1st |
| | Cairo Kowalchuk | École Willow Point | 2nd |
| | Gavin Prokopchuk | École Willow Point | 3rd |
| Grade 5 Girls | Name Withheld for Privacy | Ocean Grove | 1st |
| | Olivia Wood | École des Deux Mondes | 2nd |
| | Ali Maga | Penfield | 3rd |
| Grade 6 Boys | Name Withheld for Privacy | École Phoenix | 1st |
| | Oskar Herschler | École Phoenix | 2nd |
| | Easton LaFrance | Southgate | 3rd |
| Grade 6 Girls | Kinley Granson | École Phoenix | 1st |
| | Hannah Check | École Phoenix | 2nd |
| | Lok-Yee Wong | École Phoenix | 3rd |
| Grade 7 Boys | Arber Hartford | École Phoenix | 1st |
| | Rylan (last name unknown) | École Phoenix | 2nd |
| | Kayden Faughon | Southgate | 3rd |
| Grade 7 Girls | Stella (last name unknown) | École Phoenix | 1st |
| | Claire (last name unknown) | École Phoenix | 2nd |
| | Ariana Mullet | Southgate | 3rd |


High Jump
| | | | |
| --- | --- | --- | --- |
| Grade 5 Boys | Carson Grant | Ocean Grove | 1st |
| | Name Withheld for Privacy | École Mer-et-Montagne | 2nd |
| | Mason Zaschke | Quadra | 3rd |
| | Hunter Bazowski | École des Deux Mondes | 3rd |
| | Nash Sandberg | École des Deux Mondes | 3rd |
| | Lukas Knowles | Georgia Park | 3rd |
| Grade 5 Girls | Madeleine MacPherson | École Willow Point | 1st |
| | Name Withheld for Privacy | École Mer-et-Montagne | 2nd |
| | Amelia Monteith | Quadra | 3rd |
| | Madeline Morton | Georgia Park | 3rd |
| Grade 6 Boys | Name Withheld for Privacy | École Phoenix | 1st |
| | Seymour Luoma | École Phoenix | 2nd |
| | Name Withheld for Privacy | École Mer-et-Montagne | 3rd |
| Grade 6 Girls | Anya Atkinson | Southgate | 1st |
| | Makayla Mackenzie | Southgate | 2nd |
| | Hannah Check | École Phoenix | 3rd |
| Grade 7 Boys | Name Withheld for Privacy | École Mer-et-Montagne | 1st |
| | Isaac Quadri | Southgate | 2nd |
| | Dreyton Jackson | Southgate | 3rd |
| Grade 7 Girls | Kayley Arkell | Southgate | 1st |
| | Claire Cooledge | École Phoenix | 2nd |
| | Ellie Nolting | École Phoenix | 3rd |


Discus
| | | | |
| --- | --- | --- | --- |
| Grade 5 Boys | Drew Jean | Quadra | 1st |
| | Carter Kilby | Ripple Rock | 2nd |
| | Alastair MacKenzie | Pinecrest | 3rd |
| Grade 5 Girls | Lyndvi Egan | Pinecrest | 1st |
| | Daala Assu-Clark | École des Deux Mondes | 2nd |
| | Paige Brodie | Pinecrest | 3rd |
| Grade 6 Boys | Name Withheld for Privacy | École Phoenix | 1st |
| | Thomas Brooks | École Phoenix | 2nd |
| Grade 6 Girls | Hannah Check | École Phoenix | 1st |
| | Name Withheld for Privacy | École Mer-et-Montagne | 2nd |
| | Name Withheld for Privacy | École Phoenix | 3rd |
| Grade 7 Boys | Arber Hartford | École Phoenix | 1st |
| Grade 7 Girls | Name Withheld for Privacy | École Mer-et-Montagne | 1st |
| | Name Withheld for Privacy | École Mer-et-Montagne | 2nd |
| | Stella Nadler | École Phoenix | 3rd |


Relays - 4 x 100m
Grade 5 Boys
Liam

(last name unknown)

Ocean Grove
1st


Name Withheld for Privacy
Pinecrest
2nd


Logan Murray
Georgia Park
3rd
Grade 5 Girls
Name Withheld for Privacy
Ocean Grove
1st


Madeline Morton
Georgia Park
2nd


Madeleine MacPherson
École Willow Point
3rd
Grade 6 Boys
Oskar Herschler
École Phoenix
1st


Milo McConkie
Southgate
2nd
Grade 6 Girls
Anya Atkinson
Southgate
1st


Kinley Granson
École Phoenix
2nd
Grade 7 Boys
Isaac Quadri
Southgate
1st


Arber Hartford
École Phoenix
2nd
Grade 7 Girls
Nya Samson
École Phoenix
1st
Grade 7 Open Mixed
Name Withheld for Privacy
École Mer-et-Montagne
1st


Name Withheld for Privacy
École Mer-et-Montagne
2nd


100m
| | | | |
| --- | --- | --- | --- |
| Grade 5 Boys | Fen Hanthorn | Ripple Rock | 1st |
| | Cairo Kowalchuk | École Willow Point | 2nd |
| | Luca Watson | Pinecrest | 3rd |
| Grade 5 Girls | Madeleine MacPherson | École Willow Point | 1st |
| | Clara Jensen-West | École Willow Point | 2nd |
| | Hailey Anderson | Penfield | 3rd |
| Grade 6 Boys | Name Withheld for Privacy | École Phoenix | 1st |
| | Name Withheld for Privacy | École Mer-et-Montagne | 2nd |
| | Seymour Luoma | École Phoenix | 3rd |
| Grade 6 Girls | Kinley Granson | École Phoenix | 1st |
| | Anya Atkinson | Southgate | 2nd |
| | Lole-Yee | École Phoenix | 3rd |
| Grade 7 Boys | Rylan Lucas | École Phoenix | 1st |
| Grade 7 Girls | Nya Samson | École Phoenix | 1st |
| | Sophia (last name unknown) | École Phoenix | 2nd |
| | Claire (last name unknown) | École Phoenix | 3rd |


200m
| | | | |
| --- | --- | --- | --- |
| Grade 5 Boys | Fen Hanthorn | Ripple Rock | 1st |
| | Jonathon Harris | École des Deux Mondes | 2nd |
| | Name Withheld for Privacy | École Mer-et-Montagne | 3rd |
| Grade 5 Girls | Amiee Comeau | Pinecrest | 1st |
| | Aubryn Olsen | Sandowne | 2nd |
| | Madeleine MacPherson | École Willow Point | 3rd |
| | Hannah Sumner | Georgia Park | 3rd |
| Grade 6 Boys | Name Withheld for Privacy | École Phoenix | 1st |
| | Oskar Herschler | École Phoenix | 2nd |
| | Grady Honsinger | Southgate | 3rd |
| Grade 6 Girls | Anya Atkinson | Southgate | 1st |
| | Stella Barrie | École Phoenix | 2nd |
| Grade 7 Boys | Name Withheld for Privacy | École Mer-et-Montagne | 1st |
| | Casey Bukta | École Phoenix | 2nd |
| | Isaac Quadri | Southgate | 3rd |
| Grade 7 Girls | Nya Samson | École Phoenix | 1st |
| | Name Withheld for Privacy | École Mer-et-Montagne | 2nd |
| | Kayley Arkell | Southgate | 3rd |


400m
| | | | |
| --- | --- | --- | --- |
| Grade 5 Boys | Fen Hanthorn | Ripple Rock | 1st |
| | Kolby Armstrong | Penfield | 2nd |
| | Eli Holland | Ocean Grove | 3rd |
| Grade 5 Girls | Kacey MacLean | Ocean Grove | 1st |
| | Clara Jensen-West | École Willow Point | 2nd |
| | Halen Claus | Penfield | 3rd |
| Grade 6 Boys | Oskar Herschler | École Phoenix | 1st |
| | Name Withheld for Privacy | École Mer-et-Montagne | 2nd |
| | Owen Meldrum | École Phoenix | 3rd |
| Grade 6 Girls | Anya Atkinson | Southgate | 1st |
| | Makayla Mackenzie | Southgate | 2nd |
| | Stella Barrie | École Phoenix | 3rd |
| Grade 7 Boys | Name Withheld for Privacy | École Mer-et-Montagne | 1st |
| | Casey Bukta | École Phoenix | 2nd |
| | Isaac Quadri | Southgate | 3rd |
| Grade 7 Girls | Nya Samson | École Phoenix | 1st |


1200m
| | | | |
| --- | --- | --- | --- |
| Grade 5 Boys | Hunter Bazowski | École des Deux Mondes | 1st |
| | Jonathon Harris | École des Deux Mondes | 2nd |
| | Koen Nicholas | Ocean Grove | 3rd |
| Grade 5 Girls | Kacey MacLean | Ocean Grove | 1st |
| | Clara Jensen-West | École Willow Point | 2nd |
| | Ocea Jensen-West | École Willow Point | 3rd |
| Grade 6 Boys | Oskar Herschler | École Phoenix | 1st |
| | Owen Meldrum | École Phoenix | 2nd |
| Grade 6 Girls | Makayla Mackenzie | Southgate | 1st |
| | Mackenzie Manzer | Southgate | 2nd |
| | Leah Reynolds | École Phoenix | 3rd |
| Grade 7 Boys | Isaac Quadri | Southgate | 1st |
| | Dreyton Jackson | Southgate | 2nd |
| Grade 7 Girls | Name Withheld for Privacy | École Mer-et-Montagne | 1st |
| | Stella (last name unknown) | École Phoenix | 2nd |